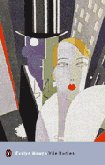 Opening Lines:
It was clearly going to be a bad crossing.
With Asiatic resignation Father Rothschild SJ put down his suitcase in the corner of the bar and went on deck. (It was a small suitcase of imitation crocodile hide. The initials stamped on it in Gothic characters were not Father Rothschild's, for he had borrowed it that morning from the valet-de-chambre of his hotel. It contained some rudimentary underclothes, six important new books in six languages, a false beard and a school atlas and gazetteer heavily annotated.) Standing on the deck Father Rothschild leant his elbow on the rail, rested his chin in his hands and surveyed the procession of passengers coming up the gangway, each face eloquent of polite misgiving.
Where are we?
The French coast, sometime in the 1930s: "the near future," Waugh wrote in his preface, "when existing social tendencies have become more marked."
In brief...
Against an endless cycle of parties and balls, socialite Adam Fenwick-Symes and his fellow Bright Young Things seek amusement and shun boredom. In their faithlessness, their combination of voyeurism and exhibitionism and their obsession with the trivial and ephemeral, his social set accurately reflect the modern world in which they thrive - until the collapse of government and the declaration of the next world war.
Extract from Vile Bodies © Copyright 1930 by Evelyn Waugh