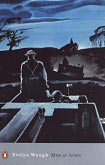 Opening Lines:
When Guy Crouchback's grandparents, Gervase and Hermione, came to Italy on their honeymoon, French troops manned the defences of Rome, the Sovereign Pontiff drove out in an open carriage and Cardinals took their exercise side-saddle on the Pincian Hill.
Gervase and Hermione were welcomed in a score of frescoed palaces. Pope Pius received them in private audience and gave his special blessing to the union of two English families which had suffered for their Faith and yet retained a round share of material greatness. The chapel at Broome had never lacked a priest through all the penal years and the lands of Broome stretched undiminished and unencumbered from the Quantocks to the Blackdown Hills. Forbears of both their names had died on the scaffold. The City, lapped now by the tide of illustrious converts, still remembered with honour its old companions in arms.
In brief...
The non-aggression pact between Soviet Russia and Nazi Germany spurs Catholic aristocrat Guy Crouchback from his self-imposed Italian exile into enlistment with the British army. Billeted with the porpoise-booted, chemical-toilet-wielding Apthorpe, Guy finds his chivalric notions of battle sharply exposed as redundant in the face of monotony and blunder.
Extract from Men at Arms © Copyright 1952 by Evelyn Waugh